PAIRING YOUR DEVICES
Welcome to the most comfortable, natural, and unlimited mobile typing experience available. Your new ZAGG Limitless Keyboard pairs with up to three Apple®, Android™, and Windows® devices at the same time. Mix and match devices according to your needs and let the hassle of re-pairing each time you change devices fade to a distant memory. The following will show you how to operate your Limitless Keyboard. Now, get ready to experience truly limitless mobile typing. Your Limitless Keyboard can pair with up to three devices – each on a different operating system if you like. It even pairs with your desktop
computer to save valuable desk space, or with your Smart TV for ultimate convenience. To pair your favorite device, just follow these instructions:
1. Insert your device into the built-in stand by setting it in the stand and then letting it lean back. Your Limitless Keyboard will secure it at an ideal viewing angle. You can set your devices in the stand in either portrait or landscape mode – though we recommend landscape mode for tablets. Skip this step when pairing with your desktop computer.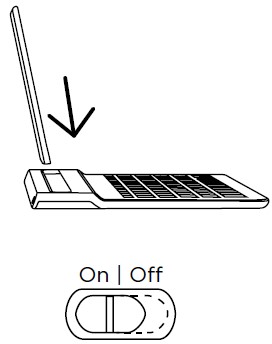 2. Turn your Limitless Keyboard on by sliding the power switch to the On position. The LED above the Delete key will light green for two seconds to indicate the power is on.
3. With the power on, begin the pairing process by accessing the Bluetooth® settings on your device and ensuring the connection is on. Be sure all other devices that accept a Bluetooth® signal are out of range or have Bluetooth® turned off.
4. Press and hold one of the Bluetooth keys for three seconds. The LED above the Delete key will flash blue indicating your keyboard is in pairing mode. It does not matter which key you use first, and you do not need to use all three.

5. Program your keyboard based on what type of device you are pairing. During pairing, complete the following keystrokes for your device:
a. Windows: fn + W
b. Apple: fn + I
c. Android: fn + A
This allows your Limitless Keyboard to perform keyboard shortcuts and functions specific to your devices.
6. Your device will display "Zagg Limitless" as an available device. Select this option and complete the pairing process for your device. Once paired, the blue LED will stop flashing. Once begun, if the Limitless Keyboard doesn't complete pairing with a device after 60 seconds, it will abort the process. Repeat steps 3-5 to complete pairing.
7. Repeat steps 4-5 to pair your Limitless Keyboard to other devices. When paired with other devices, simply press or to toggle between them.

8. To turn your Limitless Keyboard off, slide the power switch to the Off position. A red LED will light to indicate your keyboard has powered down.

*The Bluetooth wordmark and logos are registered trademarks owned by Bluetooth SIG, Inc. and any use of such marks by Zagg Inc is under license
For a helpful video on how to pair your keyboard to your tablet, click here.