If you purchased a product on ZAGG.com while logged in to your account, your product is automatically registered. If you were not signed in to your account or purchased your product at a retail location, please follow the steps below to register your product:
▶ Customers Outside North America - click for further instructions

Please make sure you are on the correct website for your country or region when registering your product or attempting to make a warranty claim. You can find the Select a region drop-down near the bottom of the website.
1. Click on "Support" at the top of ZAGG.com. Then click on "Register a Product".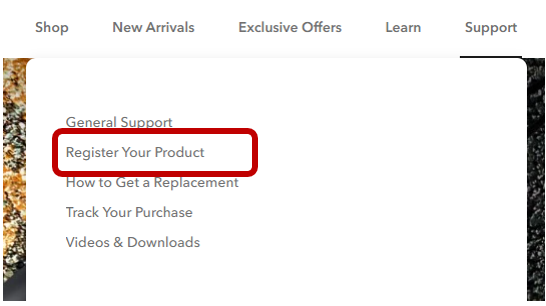 2. You will be asked for your email address. If you already have an account you will be asked for your password. If you do not remember your password, click "Forgot My Password" and a link to reset it will be emailed to you. Please check your junk or spam folders if you do not find it right away.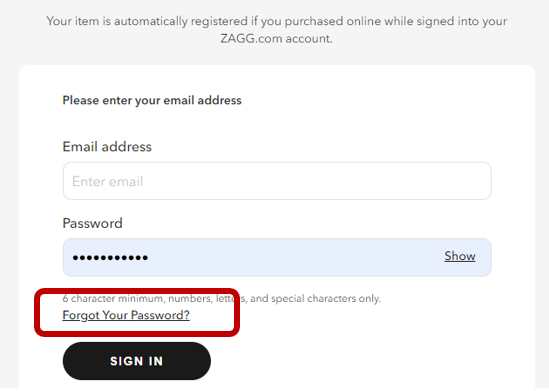 3. If you do not have an account, you will need to create one by simply entering your first and last name and choosing a password.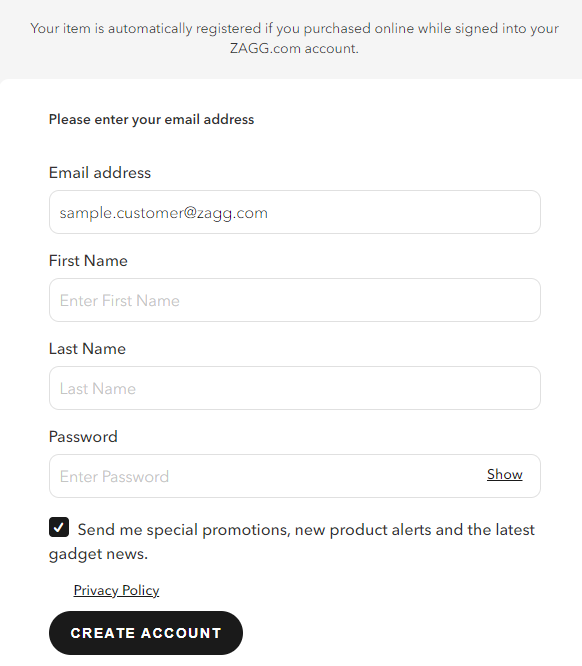 4. From there you will choose the product you own. If you have the box, you can also scan the QR code for an automatic product registration.
Don't know what type of InvisibleShield you have? Click here and we can help.
Need to Make a Warranty Claim?

We make it simple and easy for you to make a warranty claim. Please click here to start your online warranty claim. You will be asked to log in or set up a new account to get started.
Please note: As items may ship from multiple locations and also because each warranty applies to a singular item, only one item can be replaced per warranty transaction.
If you have multiple items needing a replacement, please ensure they are each registered individually (if not purchased from ZAGG.com directly - purchases made on ZAGG.com are automatically registered if logged into your account) and request a separate warranty replacement for each item you need replaced. Shipping and handling fees apply for each order.
Weren't logged into your account when you placed your order? No worries, just login to your account and register the product. You do not need to register any warranty orders as they are already registered to your account.

Looking for a new case for your phone? Click here.