All ZAGG keyboards carry a one-year limited warranty from the original date of purchase. Should you need to replace your keyboard while in warranty we make it simple and easy for you to make a warranty claim.
1. Log into your ZAGG.com account.

2. Click on your registered product that you want to process a replacement for. If you do not see the registered product, in the list, please be sure to have registered your product. Then select 'Product Options' and click on 'Warranty Replacement'.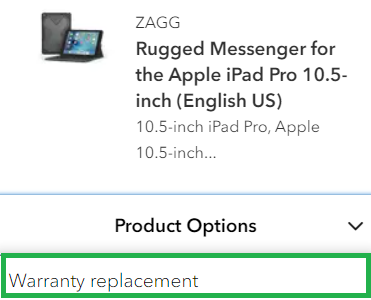 Note: If you have purchased your ZAGG product on ZAGG.com you DO NOT need to register the product; your order number will be used for replacement purposes. If you purchased your ZAGG product from an offsite reseller, you will need to register the product.
International Customers: Please make sure you are on the correct website for your country or region when registering your product or attempting to make a warranty claim. You can find the "Select a region" drop-down near the bottom of the website.