Below are step-by-step instructions on how to get and attach an Amazon pdf receipt to an email from a ZAGG agent.
If using a mobile device, you will need to go into a browser (Safari, Chrome, etc.) and physically type in www.amazon.com due to the possibility of being sent to the device app. The way you will be able to tell is by the background of the screen. The browser version will be in dark gray while the app will have a blue hue to the top.
| | |
| --- | --- |
| App | Browser |
| | |
Once you have logged into your Amazon account, go to Track & Manage orders.
Do a search order history for the ZAGG Product.

The default search time frame is 3 months
You are able to adjust the filter to search different time frames
Once the order has been found, scroll down and click on "View Order Details"
Under "View Order Details", click "View Invoice"
Click on "Print this page for your records"
If you are on an Android or Google phone, have the destination set to "Save as PDF" and attach it to the ZAGG reply email.
Important! If you are using an Apple phone "Save as PDF" will not be an option, follow the additional steps below.
After the invoice is pulled up, the first step is to click "Share" in the middle of the bottom of the screen.
Scroll down and tap "Print"
A small preview of the document will appear. Pinch and zoom in to make it full screen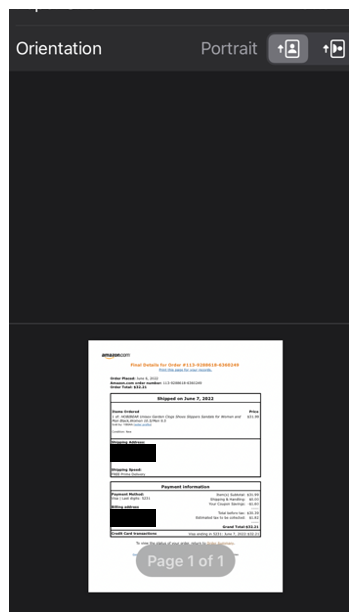 This full screen document is actually a PDF! To export it tap the "Share" button again in the bottom left corner.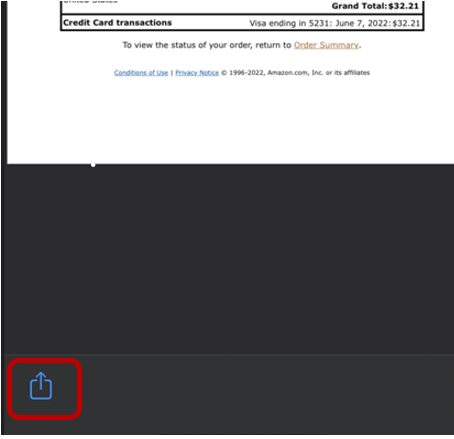 Then tap on "Save to Files"
Then under "iCloud Drive", choose the "Downloads" folder then click save and that's all it takes!
To attach it to an email reply, simply press and hold anywhere inside the body of the email. A menu will appear. Click the right arrow once and choose "attach file"
Select your "Downloads" folder.
Scroll until you find your file and then just tap on it!
Congratulations, you did it!