Your Pro Keys features a case that protects your device even when it's not connected to your keyboard. When you'd like to use the case without the keyboard, there are three ways you can switch to your onscreen keyboard.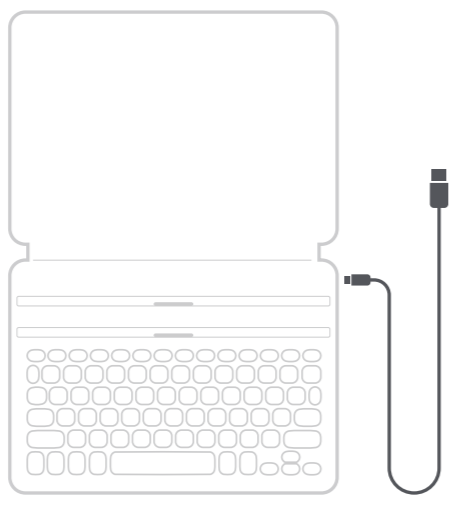 1. Plug the Type-C connector into the charging port on the keyboard.
2. Plug the regular USB connector into any 5V USB outlet. A red LED will light to indicate your keyboard is charging. This LED will turn off when your keyboard is fully charged.
NOTE: Pro Keys has a unique power-saving feature. If the case containing the iPad is removed from the keyboard, the unit will enter a deep sleep standby mode where it will not even charge when plugged in. If your keyboard is unresponsive with the case removed, be sure the case is magnetically docked with the keyboard to ensure the unit wakes up.
Normal use is approximately one hour of use per day without the backlit feature. Using the backlit feature will impact battery life and require more frequent charging.