To insert your Apple iPad® into the Folio, start with the Folio's keyboard facing you. Then, with your iPad in landscape mode and the volume control buttons facing out (the Home button is on your right), set the bottom half of your iPad in the cover. You may need to apply light pressure to your iPad to ensure it is settled at the bottom of the cover. Next, snap the top half into the cover. Check all corners to make sure they have seated properly as well.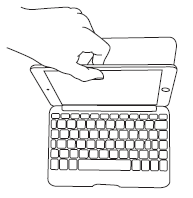 When your iPad is secure in the Folio, you can close it and magnets will activate your iPad's sleep/wake feature to help preserve battery life. Simply open your Folio to wake your iPad.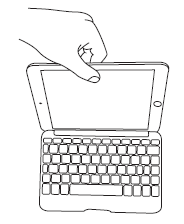 To easily remove your iPad, grasp the top of the Folio's cover in the middle and apply a light pressure to the back of your iPad. Grasp your iPad's exposed side and lift/pull away from the Folio.