1. To use the magnetic, built-in kickstand, lift the cover off the keyboard and lay it flat.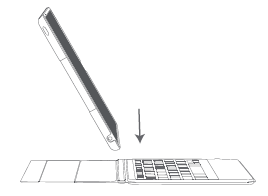 2. Place your device in the magnetic recessed groove located in the middle of your Rugged Messenger where you will feel it connect with the magnets.
3. While holding your device in place, fold the cover toward your device. Let the cover fold in along the groove to create the built-in stand.
4. Place the end of the cover close to the top of your device and you will feel the magnets connect, securing the stand in place. You can now rest your device against the stand for a convenient viewing angle.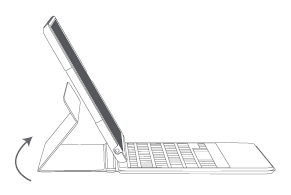 ADJUSTING THE VIEWING ANGLE
Your Rugged Messenger case features built-in magnets that work together with the built-in stand to create multiple viewing angles. To adjust the viewing angle on your Rugged Messenger, simply slide the built-in stand up or down along your Rugged Messenger case until you feel the magnets connect.
Caution: sliding the stand to the very top of the device may result in an unstable position.